Publitek teamed up with Electronics Weekly to find out how the electronics marketing landscape has changed in a Covid-19 world and what the "new normal" might look like. The results are in and the topline shows a general sense of positivity towards the market's response to the pandemic.
When do you anticipate your business returning to "normal" in terms of trading and marketing activity?
36% of respondents expect a return to normal by the end of 2020, with 24% expecting it to take up to another 6 months beyond that.
Just 10% of respondents expected it to take a year or longer, and 14% of respondents reported that their business had not been affected at all.
How do you think the crisis will affect your marketing spend during the second half of 2020 compared to your original pre-crisis plan?
52% believed that marketing spend would be reduced, 16% said it would be increased, with 32% saying they were unsure or that it would remain the same.
The difficulty with cutting budgets is knowing where to cut. As John Wanamaker supposedly said: "Half the money I spend on advertising is wasted; the trouble is I don't know which half." It's at times like these that robust, accurate reporting is essential for marketers. Now maybe the time to tighten belts, but if so, be sure to trim the right activities.
In the light of event cancellations will you be re-considering your post-Covid-19 tradeshow strategy?
How has your focus on the following marketing activities changed during the current crisis? / How do you think your focus on these activities will change once the crisis is over?
The biggest anticipated cut in spending is on display advertising with 37% saying that budgets had been cut.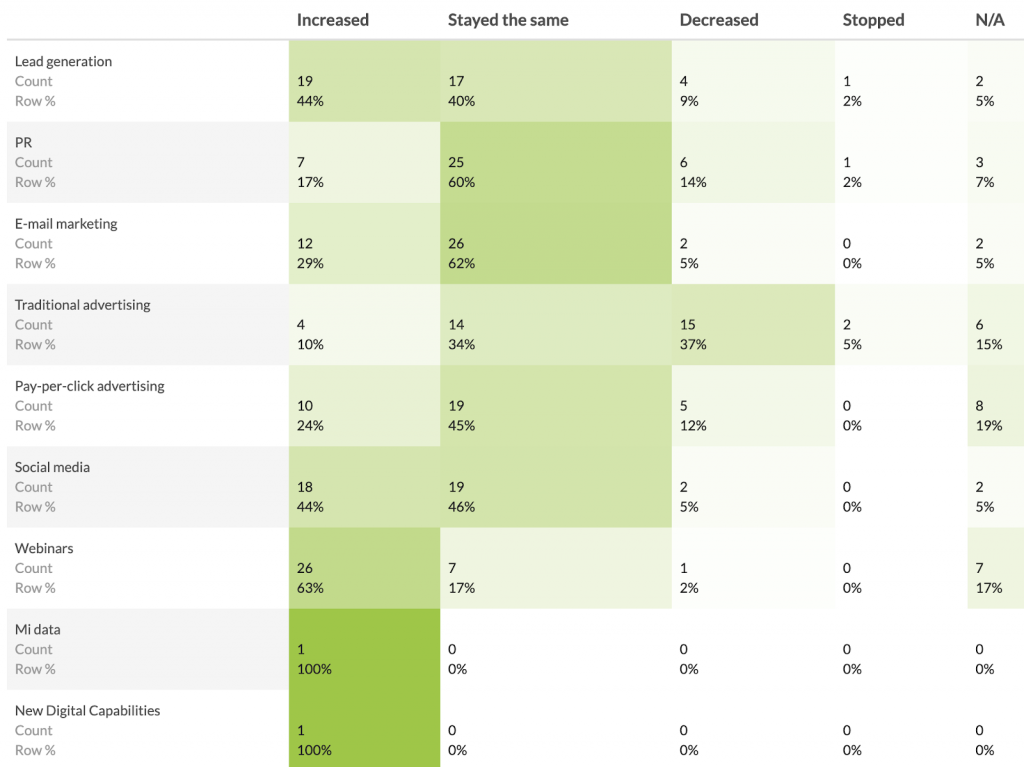 However, this reduction in advertising budget has seen an increased spend in other areas with webinars (63%), lead generation (44%), and social media (44%) activities seeing the biggest increase in budget spend with respondents expecting this trend to continue in the long-term.
Now, more than ever, marketers need to demonstrate ROI and whilst e-commerce sales aren't a measure of success for many companies in the electronics sector, the volume and quality of leads generated are important KPIs. Webinars and digital lead generation can be effective and efficient generators of targeted leads, and both provide measurable results.
The increased use of social media shows a need for marketers to maximise the resources they have, by increasing their brand exposure to social media followers.
Has the forced switch to video conferencing changed forever how you engage and market to customers and prospects, or will you return to pre-pandemic face-to-face meetings?
69% believe the forced switch to video conferencing has forever changed how they engage and market to customers and prospects stating that "it's changed the normal – we will keep using video but meet face-to-face for most important meetings".
17% even said that this will be a permanent change as they can work effectively and more cost-efficiently via video conference.
When face-to-face sales are made impossible by the restrictions currently imposed on us, we have to look to alternatives to keep sales flowing. This means lead generating activities to fill the funnel with prospects and marketing automation to nurture these leads through the buyer journey.
This crisis has meant challenges, changes and opportunities for us all. As this pandemic is slowly brought under control, thoughts can begin turning towards re-establishing our businesses. It's now time to take a step forward – moving together will speed up recovery, allowing us all to look at the opportunities and to improve what we do.
To discuss your next steps, please contact us.