So it's here. 2021. A year that arrives with new hope injected by the rollout of Covid vaccines across the world.
However, an unrelenting wave of lockdowns and restrictions to quell coronavirus transmission makes it incredibly awkward to predict a clear roadmap for marketing activities. In particular, a challenging set of questions surrounds event participation for businesses in the electronics, industrial automation and deep technology sectors—the core markets of Publitek's client base – and sectors that have relied heavily on exhibitions and live events traditionally.
Are hopes now dashed for a return to 'business as usual' for in-person events in 2021? Will virtual conferences simply lose their charm or can organisers reignite interest in the face of growing fatigue associated with the slew of online events? Will we witness the growth of hybrid events that allow visitors at an exhibition to engage with digital participants (a blended physical/virtual experience)? And what level of importance will trade fairs play in the overall marketing mix in the future? Will those firms that chose to pivot towards different marketing channels ever return to viewing events with the same level of importance as they did before the Covid-19 pandemic?
While it may still take a few months before the fog clears to allow marketing professionals to be able to make a more informed assessment about long-term event participation, we've selected some relevant events of interest to our clients across the world. Many are virtual conferences although there's a smattering of in-person fairs too. I'll pass on making any predictions about whether all these events remain firmly on the calendar as Santa yet again ignored my wish for a time machine.
Ten 2021 events to look forward to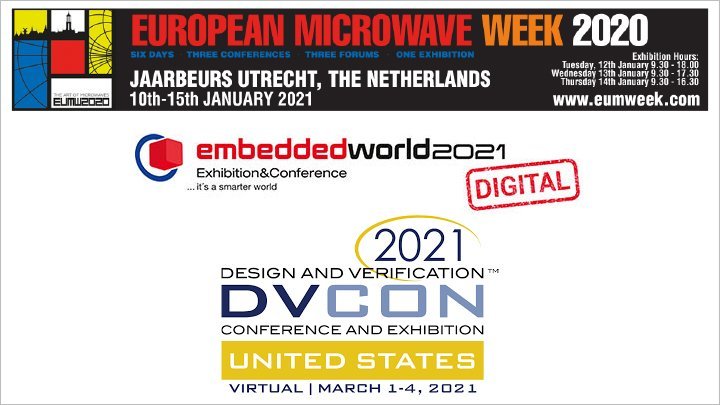 European Microwave Week | January 10–15
European Microwave Week (EuMW) 2020 was originally set to take place in Amsterdam in September 2020. Still, the organisers decided to reschedule EuMW 2020 (which includes the European Microwave Conference, the 15th European Microwave Integrated Circuits Conference, and the 17th European Radar Conference) as an in-person event in Utrecht, The Netherlands in mid-January 2021. Of course, Covid-19 restrictions haven't eased, and the conference and exhibition have moved online instead. All scheduled technical talks in the conference programme have transferred to a vFairs conference platform. More information is available from the event website.
embedded world | March 1–5
Usually held in Nuremberg, the embedded world trade fair and accompanying conferences, the embedded world Conference and the electronic displays Conference, go completely virtual in 2021. Last year, the event was one of the few tradeshows that weren't cancelled due to Covid-19 although attendance was down and many major vendors chose not to exhibit. Electronics Design editor Bill Wong had joked about needing a T-shirt printed with "I survived Embedded World 2020". For 2021, the full virtual conference programme, covering topics such as automotive, AI and Blockchain, is now available to view.
DVCon US | March 1–4
Because of the COVID-19 pandemic, The Design and Verification Conference (DVCon) US show has also been moved to an entirely virtual conference consisting of pre-recorded and live presentations. Among other topics, you can expect deep dives into electronic design automation (EDA) tools such as simulation, emulation, formal verification, virtual prototyping and/or FPGA prototyping. Key sponsors include Cadence, Mentor, Synopsis, Imperas, Sigasi and Truechip. There are lots to look forward including a keynote speech from Dr. Paul Cunningham, corporate vice president and general manager of the system verification group at Cadence, who will deliver a talk on 'Computational Logistics for System and Software Verification'. Check out the event website.
electronica China | April 14–16

China's largest trade fair for electronic components, systems, applications and solutions is set to be staged at the Shanghai New International Expo Centre in April. Together with productronica China, last year's electronica China 2020 shrunk a little but still played host to over 1,300 exhibitors. It is safe to forecast intercontinental attendance will fall, and the event will rely mainly on domestic support. This year's theme is 'Connecting everything – smart, safe and secure.' Visitors will be able to immerse themselves in new products across a diverse range of pavilions including semiconductors, embedded systems, displays, sensor technology, test and measurement, electronic design, passive components, electromechanics, power supplies, automotive solutions and wireless networks. Participating companies include Fujitsu, Huawei, STMicroelectronics, Renesas, Bosch, and Murata, to name just a few. Visit the relevant website in Chinese and English, or download an event factsheet.
Mobile World Congress | June 28–1 July
If you're looking to gain insights into the mobile communications industry, then Mobile World Congress (MWC) is compelling. MWC Barcelona 2020 organised by GSMA, was cancelled for 2020 due to the pandemic and is now slated to be held at the Fira de Barcelona Gran Via in the summer. Of course, it is debatable whether this event will remain in-person, move virtual or opt for a hybrid model. For updates, visit the event website.
Of course, sister event MWC Los Angeles is another behemoth that is impossible to ignore. However, other shows such as Smart Cities Connect, IWCE, and ConnectX are also appealing depending on the solutions being sold. Planned for the LA Convention Centre between October 26 – 28, MWC LA publishes more details on this separate website.
KubeCon | October 12–15
KubeCon, the Cloud Native Computing Foundation's flagship conference, virtually gathers adopters and technologists from leading open source and cloud native communities in mid-October. You can expect to jo in CoreDNS, Envoy, Fluentd, Harbor, Helm, Jaeger, Kubernetes, Prometheus, Rook, TiKV and others for four days to further the education and advancement of Cloud-native computing. The full programme is available here. KubeCon Europe 2021 happens between 4–7 May and details for that show are presented here.
TU-Automotive Detroit | TBC 
TU-Automotive Detroit is a conference and exhibition dedicated to the development of connected and autonomous vehicles. Covering topics such as autonomous testing, AI, wireless spectrums, UX, cybersecurity and more, the event is presented by leading speakers from major companies like GM, BMW and Lyft. TU-Automotive Detroit has not yet confirmed location and date. Watch out for further updates.
Given that the event isn't penned in yet, Future Mobility Detroit is an event also worthy of consideration too. Held in Michigan between 8 – 9 September, the event website provides more details of the speakers' agenda.
IoT World | November 2–4  
 IoT World, the international IoT conference and expo enable strategists, technologists, and implementers to connect. Co-located with the AI Summit Silicon Valley, the show showcases new solutions and topical debate within IoT and AI together with 5G and Edge computing across many industry verticals. IoT World 2021 will focus on core themes including developments in the IoT ecosystem to progress end-to-end IoT solutions and intersecting IoT with 5G, Edge and AI to advance digital transformation. A list of speakers for IoT World held at Santa Clara Convention Center is available here.
Robotics & Automation | November 3–4
The UK's largest dedicated Robotics and Automation exhibition was abandoned last year due to Covid-19 but it is planned for November in the Ricoh Area in Coventry. It isn't as large-scale as some industrial automation events in Germany. However, with over 100 exhibitors and 40 conference sessions, it's still an excellent opportunity to explore the future of robotics, automation and related technologies for the manufacturing industry. More information is available here.
OPC Global Summit | November 9–10
The Open Compute Project (OPC) Global Summit went virtual in 2020 but plans to return to normal next year and be held at the San Jose Convention Center in November 2021. The OCP Summit brings together over 3,600 key decision makers, executives, engineers, developers and suppliers to help advance the open hardware ecosystem in, near and around and beyond the data centre. There are keynote presentations from industry titans such as Google and Facebook, and an expo hall packed with the latest OCP hardware and software offerings plus an OCP Future Technologies Symposium. More details here.
More insights and guidance
In a follow-up to this blog post, Publitek's Mark Herten will share deeper insights direct from event organisers on whether technology trade shows will be virtual throughout 2021 and highlight his thoughts on the well-known major international events held in Germany (which have been skipped in the list above for this reason).
Want to know more about event replacement packages, click here.
And if you're thinking of issuing a press release ahead of a trade show, find out why you should think carefully by clicking here.
Note: The events listed above is for general guidance purposes. While every attempt has been made to provide accurate and up-to-date information, this is not guaranteed and Publitek cannot be held responsible for any errors. It is the responsibility of our readers to check the latest event information directly with event organisers.