Social listening is sometimes overlooked by marketers, because they mistakenly believe it is the same thing as social monitoring, or that the insights only apply to social media – this couldn't be further from the truth.
Social listening delivers in-depth insights into your audiences that will improve the formulation and delivery of marketing assets across channels, and will positively impact every role within your marketing department, from creative and content, to media buying, SEO/PPC, and of course, social media.

What is social listening?
Firstly, we must make a distinction. Social monitoring is used to find mentions of a topic across social channels. This topic could be a brand name, an industry, or a niche technology. With social monitoring, we track quantitative metrics such as likes, mentions, etc., and even create automated alerts when desirable (or undesirable) events occur.
For many companies, social monitoring covers the social channels where they have corporate accounts – for example LinkedIn, Twitter, and Facebook – and frequently they only monitor activities relating to their own posted content, or direct mentions of their brand name.
Social listening builds upon this and is the process of collecting data across all social platforms – including blogs and forums – and analyzing it to identify trends and gain useful insights.
Why is social listening important?
A major difficulty in technology marketing is that many of the most powerful conversations are not taking place on public social platforms like Twitter or LinkedIn. The most influential dialogue may be taking place between small groups of highly specialized experts and the fans who follow them.
Many of the most influential conversations may be happening in closed forums and discussion groups. So tracking is more difficult to do compared to B2C. They are influencing a very small, very technical audience and that may be hard to measure.
So, how do you find your niche in the billions of conversations happening online right now? A social listening platform will give you access to these conversations, but you need a process to filter out the noise and to create audience segments.
How to find your audience?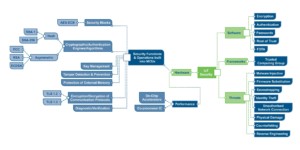 As is often the case, I advocate the use of mind maps to define your topic areas. Starting off with your central theme – your brand, a product line, a technology – start expanding each topic, creating clusters of related sub-topics, and keep going until you're listing synonyms, acronyms and stems. Read this post for advice on how to identify keywords for tech B2B audiences.
You've now created a taxonomy and from here, you can create a Boolean search that encompasses all of the above topics, sub-topics, and keywords, and you can use this to find your audience (using your social listening platform of choice).
The keyword map, in this instance, is used to create a Boolean search (to be used to filter the results returned by your social listening platform ) but can also feed into your SEO and PPC campaigns.
How to segment your audience
The keyword map, or taxonomy, provides more than just a means of finding your audience – it enables you to segment conversations and audiences.
For example, I know that any mentions of x.509 are related to IoT security software, and specifically relating to the PKI standard within asymmetric cryptography.
This same technique can be used to segment any conversations within IoT Security to the four topics defined in the mind map: software, hardware, frameworks, and standards.
How to get insights from social listening
We've now been able to segment our audience and the conversations they are having, the next step is to see what insights this can deliver. Here are a few ways in which you may use the data
Identifying trending topics to feed your content strategy.
Understanding and monitoring the strength of your brand associations with key topics / technologies, and benchmarking these against key competitors.
Where is your audience and which websites and channels do they use as sources of information?
Who are the primary influencers?
1. Identifying trending topics
Measuring the volume of mentions is a good place to start. When we plot the volume of mentions over time into a trendline chart, this enables us to see whether a particular topic is growing, or decreasing, in popularity or decreasing. We can use this same technique to measure to trending topics segmented by geographic region and by channel. This insight feeds our content strategy. Trend analysis can also be used for measuring the impact of events. By combining a keyword search with geographic targeting (and perhaps using an event hashtag), we can see the "ripples" created by supporting marketing activities.
Delving deeper into individual conversations with a topic enables us to see what content resonates with the audience, and in particular what messaging has had the greatest impact.
2. Understanding brand and topic associations
Sentiment analysis is commonplace in social media monitoring, but when combined with topic analysis, it adds another level to the insights that can be gleaned.
This contextual analysis can provide insights into how a brand or topic is perceived, and what other applications/technologies it is most commonly associated with. Sentiment analysis determines whether these associations are positive or negative.
Running these analyses over time provides a cost-effective means of monitoring the results of brand awareness campaigns, going beyond measuring the reach/impressions of PR and advertizing campaigns.
3. Where is your audience?
There are a few options when analyzing where the audience is located. A standard geographic analysis shows the locations of individuals according to social media profiles. This helps us understand the size of any give market. However, additional analyses provide additional benefits:
Firstly, we can analyse where the majority of conversations are happening – which social channels, blogs and forums are the most active and have the most engaged audience.
Secondly, we can use data source analysis to see where content is being discovered, and where conversations are taking place.
This provides opportunities for targeted PR and media placements (traditional and display network) – particularly useful when entering new markets, or looking to go beyond traditional media to increase your potential audience size for advertising campaigns.
4. Who has the most influence?
We couldn't talk about social listening without mentioning Influencers. We've already seen how social listening can be used to create defined segments within niche audiences. We can rank the individuals in these segments by their visibility and impact: the volume of followers they have, how engaged their followers are, and how far their network reaches.
For more information on how to identify tech B2B influencers, read this post.
Which social listening platform is the best?
There are many social listening platforms available to marketers, each one providing different numbers of capabilities with regard to data sources, functionality, and visualizations. The Forrester Wave™: Social Listening Platforms, Q4 2020 ranks the top 10 providers and is a great starting point for anyone looking to buy their own platform.
For anyone looking for support in running a social listening campaign, please get in touch.